About Patricia Ornelas Henry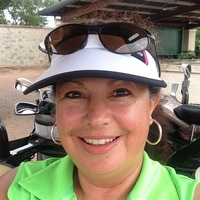 Patricia Ornelas Henry, a Ladies Professional Golf Association Teaching & Club Professional "Class A" certified instructor, has played and enjoyed the game of golf for 40+ years. As a professional golf instructor since 1998, Patricia has dedicated herself to bringing greater enjoyment to numerous students through innovative teaching methods. Patricia exudes a passion for teaching and a love for the game of golf that translates into real improvement in her students' games.

Rather than adopting a "cookie-cutter" approach to teaching, Patricia believes that each student's individual goals, preferred style of learning, and existing physical limitations should dictate the optimum learning path. Unfortunately, methodology teachers do not take these personal factors into account, impeding a student's ability to make changes easily and quickly. With a customized approach, Patricia works with your body and normal tendencies and not against itresulting in a swing that does not place unnecessary strain on your body or produce unpleasant, or possibly painful, positions. Working within your own capabilities will ensure that your swing is more natural and easier to repeat.

Patricia addresses the total golfer in her teaching, ensuring that every aspect of your individual gamephysical, technical, mental, and emotionalis attended to. Her goal is to improve your swing and scores, and also to increase your confidence level and enjoyment of the game.

A native Texan, Patricia was raised in Austin, Texas, and is a product of Austin's junior golf programs. Patricia is a graduate of Florida International University after attending Texas A&M University. She has competed extensively as a junior golfer and also on a collegiate level. In professional competition, Patricia won the 1999 United States Golf Teacher's Cup Ladies Division and the 1999 World Golf Teacher's Cup Ladies Champion. She also competed on Houston's Gateway Developmental Tour and in several State Open Championships. Patricia now competes in the LPGA T&CP's National and Central Section Championships.

Patricia has also served as an instructor in numerous local endeavors, including the Austin Junior Golf Academy, the First Tee of Greater Austin, the LPGA-USGA Girls Golf Program, the Executive Women's Golf Association clinics, the LPGA Crayola Kids Golf Clinic and Ronald McDonald House Junior Golf Clinic.

Patricia credits her love of golf to her father, Pablo Ornelas Jr., who was often compared to the legendary Harvey Penick in his teaching, and who passed on his knowledge and love for the game to his daughter. Her mother, Ofilia Ornelas, taught her by example, how to be patient and understanding, tolerant yet assertive. And both parents instilled in their daughter the value of perseverance. All great qualities found in an exceptional instructor. That's why Patricia loves teaching the game of golf to anyone who wants to learn regardless of their skill level.

Patricia is located at Jimmy Clay-Roy Kizer Municipal Golf Courses in Austin, TX. For more information about instruction or club-fitting availability, please contact Patricia via email or phone listed in the contact information.